Antalya Aquarium, Turkey
The biggest tunnel aquarium in the world... Yesss...
Did you ever fancy having a whole aquarium to wander around practically to yourself? Being in Antalya out of season has it's advantages. I'd never been to Antalya at all before, but many people I know have, it's clearly quite the british holidayers destination. I'm sure this place is packed beyond belief in the summer, but, I'm here out of season as we've been taking a look at some apartments here and my husband wanted me to get a feel for the place as we're looking at moving here for a while. It was a beautiful day that quickly turned to rain, so to seek shelter we decided to head over and hit the Antalya Aquarium.
So, here's what I'm guessing is another advantage to being here out of season... that and perhaps the fact that I have a Turkish husband, we only paid 48TRY!? Equivalent to £10 for the Aquarium visit. I just had a look on their website and it shows 125TRY. So not only was it a private aquarium visit, turns out we were quids in!

Oh by the way, they have other options like a 3D cinema, reptile and snow world... but we just went for the aquarium only option.
There were so many different species of fish and the place was much more impressive than I'd imagined. As one of the biggest aquarium complexes of the world, it's pretty surprising to know that they actually constructed the fully operational facility in just 260 days. They opened in 2012 so it is relatively new and clearly well looked after. They have more than 120 full time employees and that number picks up during the high season between April and November.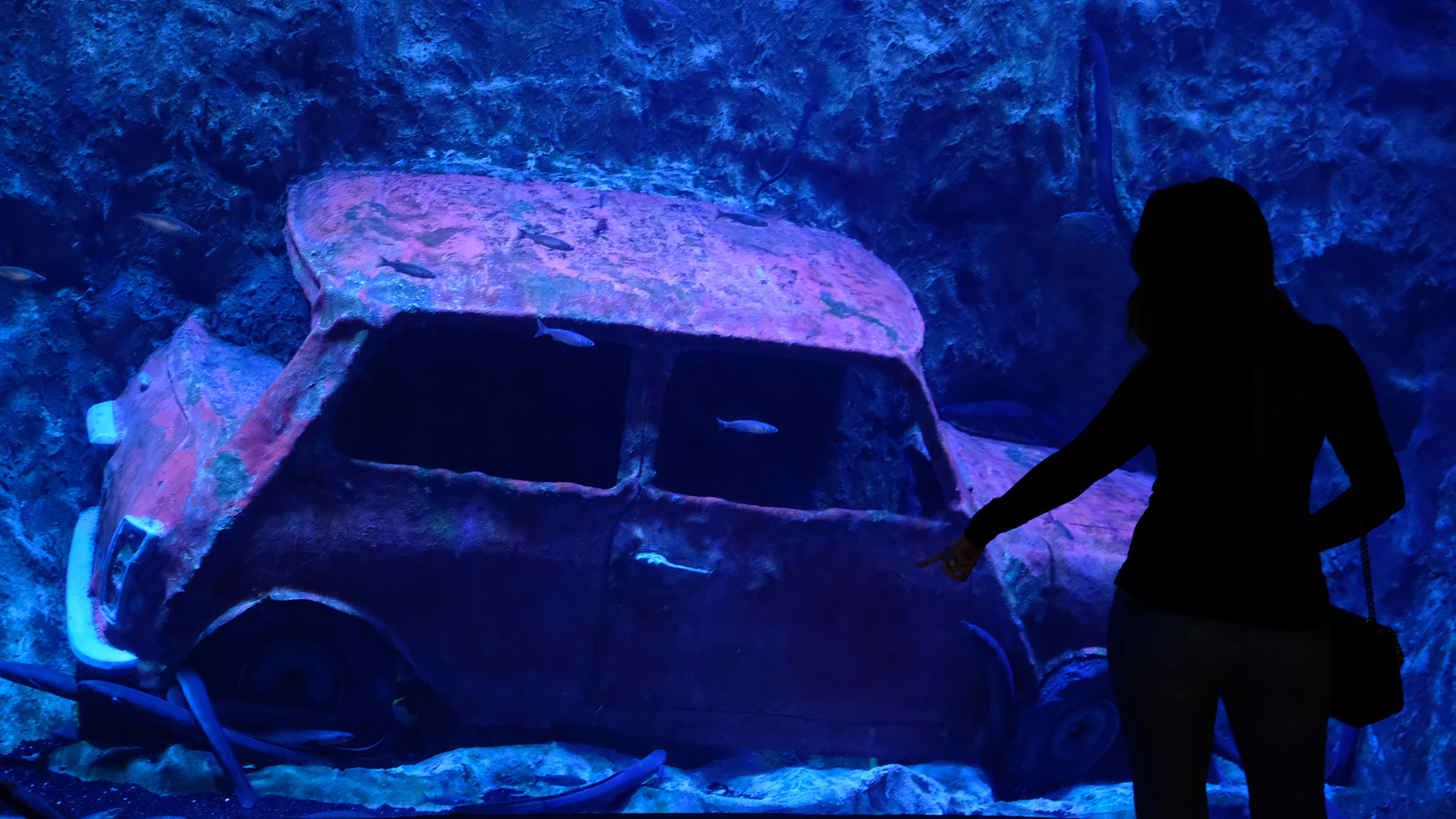 There are 40 exhibits within the aquarium. Aside from the array of fish, eel, shark and stingray, they also had cool displays with a life size plane, ship wreck and a strange but fun choice, a mini cooper.

The best part of all was what the aquarium is famed for, its 131 metre long tunnel aquarium! 'The longest in the world!'
This was what I'd read about in the brochure back at the hotel, and the fact that there weren't a tonne of people and rowdy kids everywhere made it so awesome!
How amazing is that! It's kinda split into three sections, one long tunnel but it spreads into wider spaces twice along the way. They have over 200 shark in there and they were everywhere! This was my favourite part, in the tunnel, no-one around around, shark swirling all around your head, crazy!
Overall this place gets a thumbs up from me. If you have a rainy day or need a break from the mad summer heat (I hear it's scary hot in July and August), it's perfect. I know a lot of people fly in for holidaying in Side or Belek for Golf Resorts but if you had spare time, maybe before the flight home I'd really recommend it. Especially with kids, which I pretty much am when it comes to this kind of thing.
I can definitely say if we do move here, whenever friends or family come over to visit, Antalya Aquarium will be on the list of things to do and see.
Oh and one last thing I almost forgot... check these babies out we had taken on the green screen on our way in, now that is some fancy photography right there... fun!